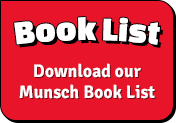 Featured Book
Featured Book

Ages 3 - 8
184 Pages
Scholastic Canada Ltd.
ISBN 9781443189057 Hardcover
Also available in French: Mordus de Munsch
The Mad About Munsch collection is now available with a fresh, new look!

A collection of classic Munsch stories! Kids will love these five wacky favourites from Canada's best-loved storyteller, with all of the original illustrations by Michael Martchenko.

Includes:

Smelly Socks
More Pies!
Zoom!
Boo!
The Sandcastle Contest

Along with the untold stories of how each book was written and the kids who inspired them, and information about Robert Munsch and Michael Martchenko.

PLUS a new bonus story, Braids, with illustrations by real kids!
Picture Books
Picture Books

Board Books
Board Books

Collections
Collections

E-Books

(Read Aloud Editions)


E-Books


Narrated by Robert Munsch!
Teaching Guides
Teaching Guides

Tell Me a Story
Tell Me a Story


Book and CD Kits available for most Munsch books!