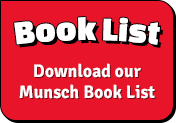 Featured Book
Featured Book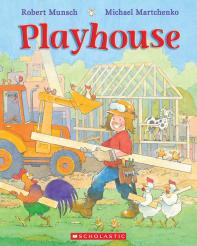 Ages 3 - 7
32 Pages
Scholastic Canada Ltd.
ISBN 9780439989596 Paperback
ISBN 9780545999298 Book and CD package
Also available in French: Une maison pour rire
When Rene's father builds her a wonderful playhouse, Rene is happy for a whole week. Then she needs a play barn, and a play cow, which her mom and dad happily create for her. But when she demands a play mom and a play dad, she discovers that her real family is best.
Robert Munsch wrote this story for a girl named Rene, who sent him a letter about her playhouse.
View an excerpt About the story
Picture Books
Picture Books

Board Books
Board Books

Collections
Collections

E-Books

(Read Aloud Editions)


E-Books


Narrated by Robert Munsch!
Teaching Guides
Teaching Guides

Tell Me a Story
Tell Me a Story


Book and CD Kits available for most Munsch books!