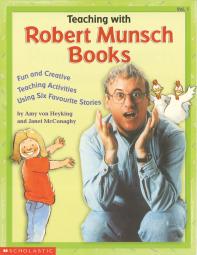 Teaching with Robert Munsch Books
Grades K - 3
64 Pages
Scholastic Canada Ltd.
ISBN 9780439974332 Paperback

Get your downloadable full PDF now at Scholastic Canada Teachables.
Teaching with Robert Munsch Books -
Fun and Creative Teaching Activities using Six Favourite Stories
Help students laugh their way to learning! This ready-to-go teaching guide uses six of Robert Munsch's best-loved stories - Alligator Baby, Get Out of Bed!, Makeup Mess, Playhouse, Ribbon Rescue, and We Share Everything! - to build important skills in language arts, social studies, math, art and science.
Included for each book are a brief summary; questions for discussion before, during and after reading; engaging cross-curricular activities; and ready-to-use reproducibles. The guide contains a Robert Munsch Q&A, author study ideas, and a list of related resources. There's also biographical information on Robert Munsch, illustrators Alan and Lea Daniel, Michael Martchenko and Eugenie Fernandes, and even the real children behind the stories!
Click here to try a sample activity!
About the Authors:
Amy von Heyking is the author of "Teaching with Dear Canada", and is a professor in the Department of Elementary Education at the University of Alberta in Edmonton.
Janet McConaghy co-authored "Social Studies Through Literature K-3" with Amy von Heyking. She teaches Grade 2 in an Edmonton public school, and has used Munsch books in the classroom on many occasions.