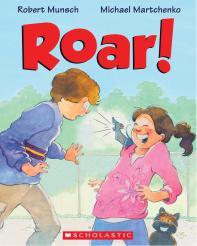 Roar!
Ages 3 - 7
32 Pages
Scholastic Canada Ltd.
ISBN 9780545980203 Paperback
ISBN 9780545980197 Hardcover
ISBN 9780545980234 Book and CD package
Also available in French: Grrrros lions!
When Isaac and Elena read a book about lions, all they want to do is ROAR! But being the king of the jungle on the school nature walk might not be such a great idea . . .