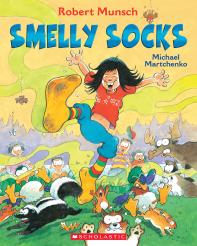 Smelly Socks
Ages 3 - 7
32 Pages
Scholastic Canada Ltd.
ISBN 9780439967075 Paperback
ISBN 9780439957236 Book and CD package
Also available in French: Tes chaussettes sentent la mouffette!
Tina's new socks are so wonderful she vows to wear them every day.

Tina loves her brand new socks so much, she's never, ever going to take them off! But when her wonderful socks start to get smelly and she still refuses to take them off, her friends have to take action.
View an excerpt About the story