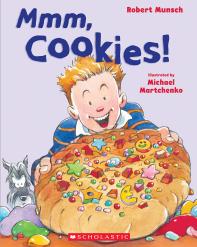 Mmm, Cookies!
Ages 3 - 7
32 Pages
Scholastic Canada Ltd.
ISBN 9780590516945 Paperback
ISBN 9781443148474 Board book
ISBN 9780439937788 Book and CD package
Also available in French: Mmm...des biscuits!
When Christopher goes into the basement and sees a pile of play clay in the corner, he decides to cook up some mischief. Wap, wap, wap - he shapes the clay into cookies, and then decorates them with sugar, icing and raisons, all of play clay. His parents are pleased to receive the cookies, until they bite into them! Then Christopher heads off to school where his teacher whips up a tasty surprise just for him.
View an excerpt About the story