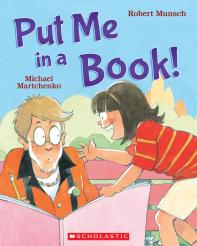 Put Me in a Book!
Ages 3 - 7
32 Pages
Scholastic Canada Ltd.
ISBN 9781443100809 Paperback
ISBN 9781443100793 Hardcover
ISBN 9781443100830 Book and CD package
Also available in French: Mets-moi dans ton livre!
Hailey is really excited when a writer puts her in a book. But being in a book isn't as much fun as it sounds. And how is Hailey going to get OUT again?