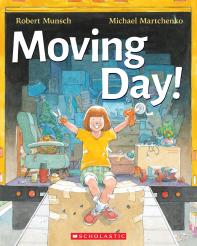 Moving Day!
Ages 3 - 8
32 Pages
Scholastic Canada Ltd.
ISBN 9781443163996 Paperback
ISBN 9781443163989 Paper over board
Also available in French: Quel déménagement!
It's moving day, and Danielle's family is frantically packing everything into boxes. Mom asks Danielle to take care of the little kids, and she is more than happy to help out. What could possibly go wrong?

View an excerpt About the story Watch the video!