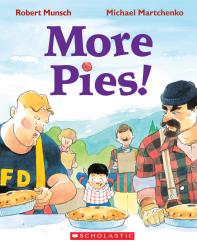 More Pies!
Ages 3 - 7
32 Pages
Scholastic Canada Ltd.
ISBN 9780779113637 Paperback
ISBN 9780439952583 Book and CD package
Also available in French: Une tonne de tartes!
Samuel has woken up hungry and it seems nothing can satisfy him. For breakfast he eats huge bowls of cereal, milk shakes, stacks of pancakes, and two fried chickens, but it's not enough. Luckily, there's a pie eating contest in the park, where where Samuel eats not one, not two, but SIX pies– CHUKA CHUKA CHOMP! To everyone's surprise, he wins the contest without turning green and falling under the table. But what will happen when he discovers his mother has made him yet another pie for lunch?!

More Pies! is a hilarious story sure to delight Munsch fans of all ages.
View an excerpt About the story