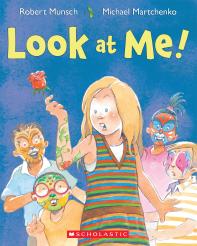 Look at Me!
Ages 3 - 7
32 Pages
Scholastic Canada Ltd.
ISBN 9780545994316 Paperback
ISBN 9780545994309 Hardcover
ISBN 9780545993265 Book and CD package
Also available in French: Drôle de rose
On a visit to the park with her grandmother, Madison decides to get her face painted. But she doesn't want just anything . . . she decides to get one really real rose painted on her face. But then the rose starts to grow. How is Madison going to get people to notice that this really real rose is . . . really real?
View an excerpt About the story