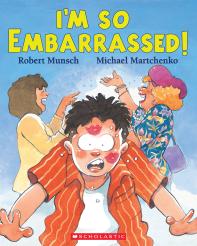 I'm So Embarrassed!
Ages 3 - 7
32 Pages
Scholastic Canada Ltd.
ISBN 9780439952392 Paperback
ISBN 9780439937825 Book and CD package
Also available in French: Ma mère exagère!
Andrew's mom is always embarrassing him. When they go to the mall to buy new shoes, she does it again and again. But this time, Andrew and his friend Taylor-Jae have a plan!