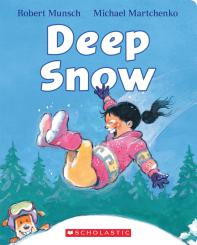 Deep Snow
Ages 0 - 3
30 Pages
Scholastic Canada Ltd.
ISBN 9781443142946 Board book
ISBN 9781443170581 Paperback
Also available in French: Papa, sors-nous de là!
Ali wants to jump in the deep snow, but when she does, she goes waaaaay down!

How will her sister and her dad get her out?

Deep Snow is one of Robert Munsch's favourite stories, specially adapted to make it perfect for the very young.
View an excerpt About the story