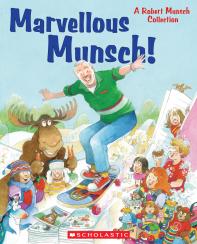 Marvellous Munsch!
Ages 3 - 8
184 Pages
Scholastic Canada Ltd.
ISBN 9781443148634 Hardcover

Munsch is marvellous!

Enjoy six great picture books from Canada's #1 author-illustrator team, and more!

Marvellous Munsch! includes these favourite Robert Munsch stories, complete with all the original illustrations by Michael Martchenko.

Too Much Stuff!
Down the Drain!
Put Me in a Book
Moose!
Give Me Back My Dad!

along with information on how the stories were created and the real-life kids who inspired them.

PLUS
• A bonus story Hugs, never before published in picture book form
• A feature on how Robert Munsch and Michael Martchenko work together to create their hilarious books!