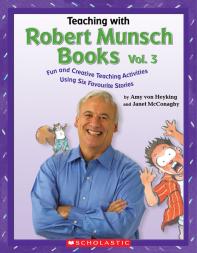 Teaching with Robert Munsch Books Vol. 3
Grades K - 3
64 Pages
Scholastic Canada Ltd.
ISBN 9780545999021 Paperback

Get your downloadable full PDF now at Scholastic Canada Teachables.
Teachers can help students laugh their way to learning by using this ready-to-go teaching guide which features six of Robert Munsch best-loved stories - Andrew's Loose Tooth, Boo!, Mmm, Cookies!, Smelly Socks, Up, Up, Down and Zoom! - to build important skills in language arts, social studies, math, art and science.
Click here to try a sample activity!