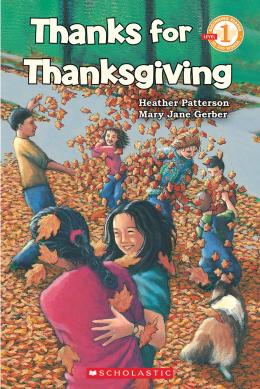 Read an excerpt
Available in French
Awards
Commended, Resource Links, Best of the Year, 2013
Thanks for Thanksgiving: A Scholastic Canada Reader
Scholastic Canada Ltd | ISBN 9781443128346 Paperback
32 Pages | 6.02" x 9.01" | Ages 4 to 7
Scholastic Canada Ltd | ISBN 9780590124843 Paperback
32 Pages | 8.01" x 10" | Ages 4 to 8
"Thanks for the candles gleaming. Thanks for the faces beaming... Thanks for the bright fall sky. Thanks for the birds' goodbye."
Fall is a time of blue skies and apple pies, playing in leaves and sun-dappled trees. Thanks for Thanksgiving's joyful text and vibrant colours are a feast that celebrates Canada's most glorious season.
The text and warm, glowing colour illustrations of this Canadian Thanksgiving picture book conjure up the rich sights, sounds, smells, and feelings of the holiday.
Raves & reviews:
Praise for Thanks for Thanksgiving
"Delicious images and tasty reading." —The Halifax Daily News
Extras: