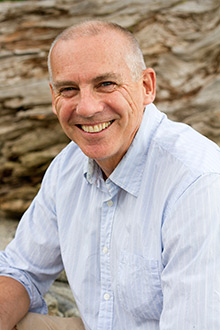 Scot Ritchie
Scot Ritchie grew up in a creative family, learning firsthand that you could do whatever you set your mind to. His father was an architect who also painted, carved and made pottery. His mother was equally creative as a writer and thinker. One of Scot's first creations was a nice home for his tortoise, Harold. In his backyard, Scot and his best friend discovered an old rectangular concrete well filled to the top with dirt. They dug it out just enough so that Harold couldn't escape. "We made little roads, pathways, tiny ponds and sleeping areas – all with their own names. It was at least eight feet long and quite wide, so he had a very happy life in there," explains Scot. "I should mention that one day Harold laid an egg so I learned that 'he' was actually a 'she!'"
Scot was always drawing as a kid, so it was a natural decision to make it his job. "It's not easy work — there are a lot of other people who love doing it. But I can honestly say that after illustrating for 30 years, I still look forward to every new project." He draws in pencil, then ink over that, then scans it into the computer. The colouring and fine tuning is done digitally, mostly using Photoshop. Scot is also now a writer, approaching writing the same way he approached drawing: "If you don't know what you can't do, go ahead and do it anyway. . . and suddenly you're a writer!"
Scot loves travelling and is very lucky to be able to take his work with him. So far, he has had extensive stays (usually for two to four months at a time) in London, Berlin, Athens, New York and Hawaii. He has also been to New Zealand, Thailand, New Orleans and Egypt.
Scot always has a number of ideas and children's book projects on the go. He is currently working in Berlin on a story based on his friends there. "It really is exciting to be able to work in a city that helps shape the story," he says. He's also working on a book about one of the First Nations peoples of Canada. And a third project is a book about the kinds of noises we hear in our homes.
Scot has received many awards and honours throughout a career that has taken him from advertising to editorial illustrations to children's books. Scot participates in many sports, and he put his hockey knowledge to work on his recent Scholastic titles: Over at the Rink and There Was an Old Lady Who Swallowed a Puck.
When he's not travelling, Scot makes his home in Vancouver, British Columbia, where he lives a stone's throw from the ocean.