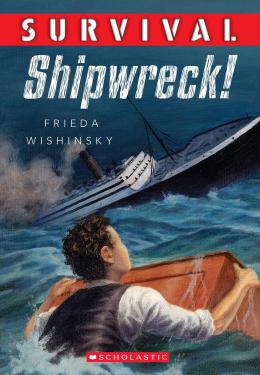 Read an excerpt
Available in French
Awards
Commended, Best Books for Kids and Teens, Canadian Children's Book Centre, 2016
Commended, OLA Best Bets: Honourable Mention, 2015
Survival: Shipwreck!
Scholastic Canada Ltd | ISBN 9781443146418 Paperback
112 Pages | 5.23" x 7.56" | Ages 9 to 12
From avalanches to shipwrecks, this brand-new fiction series hurtles its characters into dangerous situations, leaving them with only their wits and and courage to survive!
At 1:55 AM on the morning of May 29, 1914, two young friends, Sarah and Albert stand on the deck of the Empress of Ireland, a ship sailing from Canada to Liverpool, England.
But excitement soon turns to terror, as the friends feel a sharp jolt. The ship begins to tilt. People scream. Stewards order passengers to head for the lifeboats. It is a full-on nautical disaster, and only one question remains…
Will they survive?