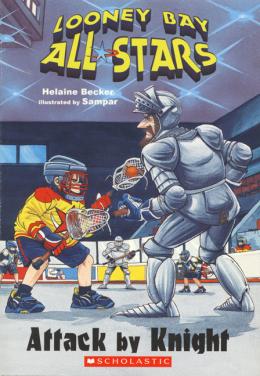 Awards
Commended, Canadian Children's Book Centre, Our Choice, 2007
Looney Bay All-Stars #2: Looney Bay All-Stars Meet the Knights
Scholastic Canada Ltd | ISBN 9780439946216 Paperback
72 Pages | 5.29" x 7.59" | Ages 7 to 9

A hilarious swashbuckling hockey adventure! Reese thought his field trip to the museum would be boring. And he was right-until he meets two knights who have mysteriously come to life among the museum's suits of armour. Reese is trying to figure out what to do with the dueling knights when the Trinity Maurauders - the Looney Bay All-Stars' arch nemesis - show up. Reese and his friends challenge the Maurauders to a lacrosse game to settle the score. That's when Reese realizes the knights might be able to settle their differences the same way. The battle's on!