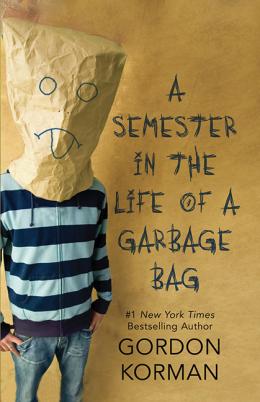 Read an excerpt
Awards
Commended, Resource Links, Best of the Year, 2013
A Semester in the Life of a Garbage Bag
Scholastic Canada Ltd | ISBN 9781443119504 Paperback
256 Pages | 5" x 7.72" | Ages 12 & Up
Scholastic Canada Ltd | ISBN 9781443119795 Ebook
256 Pages | Ages 12 & Up
A new look for a hilarious classic — nobody tells it quite like Gordon Korman!
Sean Delancey, high school basketball star, is just an ordinary, popular guy...until he meets eccentric Raymond Jardine, a boy with absolutely no luck. Although reluctant at first, Sean is drawn into Raymond's wacky scheme to secure a spot on the school-sponsored trip to Theamelpos, the fabulous Greek island that grants good luck to everyone who visits it.
Through his friendship with Raymond, Sean learns to value individuality and independent thinking. And in the book's hilarious climax, it is Sean himself who engineers the showdown between the student body and SACGEN, the principal's pet project, which is a virtually useless Solar/Air Current Generating Machine that supposedly powers the high school!
Smooth, skillful writing and an engaging cast of quirky characters will keep readers chuckling to the very end of this Korman classic.
Raves & reviews:
Praise for A Semester in the Life of a Garbage Bag:
"The story is a classic tale of teenage scheming, but the reader roots for Jardine to finally succeed in overcoming his string of bad luck. It's a book that teens love because it's about one of their own, and the boys' struggles, told with Korman's trademark humour, will keep readers laughing and engaged throughout." —Canadian Family
"Readers who enjoy the humour in This Can't Be Happening at MacDonald Hall will appreciate the antics in this re-released edition (originally published in 1985). Raymond and Sean are likeable, well-rounded characters who have memorable personalities and quirks." —CM Magazine