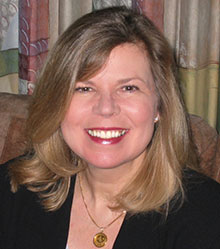 Marsha Forchuk Skrypuch
Marsha Forchuk Skrypuch has received many honours for her books, including the Ontario Library Association Silver Birch Award twice, the Manitoba Young Readers' Choice Award, the Geoffrey Bilson Award for Historical Fiction for Young People, and the SCBWI Crystal Kite Award.

In 2008, Marsha was bestowed with the Order of Princess Olha by the Ukrainian President, in recognition of her children's book Enough which described the great Ukrainian famine that claimed millions of lives in the 1930s.

Marsha is dyslexic and did not learn to read until she taught herself at age nine with Oliver Twist — a long novel that took her a year to complete. She now considers dyslexia her secret weapon because it taught her patience and perseverance but also helps her see stories from different angles. After completing an English and Library Science degree, backpacking across Europe, and working for an industrial sales company, Marsha focused on writing. After a hundred rejections, her first book was published in 1996. Learn more about Marsha at www.calla.com.