ABOUT JEREMY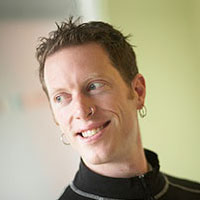 Jeremy Tankard is the author and illustrator of the four very silly picture books: Grumpy Bird, Boo Hoo Bird, Hungry Bird and his latest title, Sleepy Bird. The funny thing is he never planned to be a writer. However, after many years of drawing pictures he decided that maybe adding some words to his art would be a nice thing to try. To his surprise he loved writing and it seemed to be a natural fit for his drawings. The rest is history and he can't imagine a life without stories. 
Jeremy was born in Cape Town, South Africa but left at the age of four for a new life in the United States.
After living in South Carolina, Kentucky and Tennessee, his family moved to Calgary, Alberta where he spent most of his school years, finally ending up at the Alberta College of Art and Design. After a few years in Toronto he now resides in Vancouver. He continues to illustrate books for other authors and is also working hard on a number of new projects of his own.
Jeremy enjoys eating apple pie and practicing kung fu, but never at the same time.