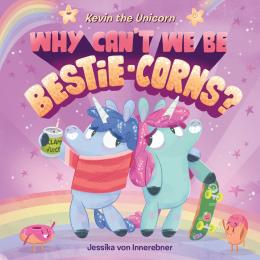 Read an excerpt
Available in French
Awards
Commended, Best Books for Kids and Teens, Canadian Children's Book Centre, 2021
Why Can't We Be Bestie-corns?
Scholastic Canada Ltd | ISBN 9781443182348 Hardcover
32 Pages | 10.286" x 10.307" | Ages 4 to 8
Kevin the Unicorn loves being friends with everyone! But what happens when a friendship just doesn't fit?
Everyone knows that everyone loves unicorns. When it comes to making friends, they really know their stuff — especially Kevin! So when a newni-corn moves in next door, Kevin can't wait to meet his new best friend. They're going to do everything together!
But something's not quite right. Eric likes clam juice, stinky cheese and disco dancing. Kevin . . . not so much. He likes glitter soda, skateboarding and painting. They're having a problem finding their bestie-corn groove. What's a unicorn to do?
This delightful picture book sparkles with humour and serves as a reassuring reminder that you can be friendly, even if you're not best friends.
Raves & reviews:
Praise for Kevin the Unicorn: It's Not All Rainbows:
"Blending the timeless wisdom of Alexander and the Terrible, Horrible, No Good, Very Bad Day with a slight parody of current trends, this picture book is an excellent antidote to the cult of positive thinking. Slightly subversive and a lot of fun." — Kirkus Reviews
"Earnestly proving that even unicorns can have terrible, horrible, no good, very bad days… 'And,' von Innerebner concludes, 'that's okay.'" — Booklist