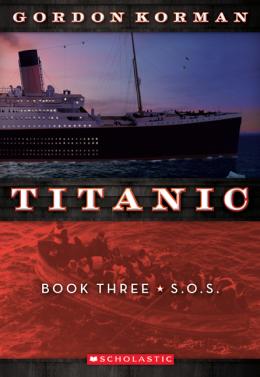 Titanic Book Three: S.O.S.
Scholastic Inc | ISBN 9780545123334 Paperback
176 Pages | 5.26" x 7.57" | Ages 8 to 12
The final instalment in Gordon Korman's thrilling adventure trilogy, set aboard the unluckiest ship of all.
From bestselling author Gordon Korman, the conclusion to the thrilling adventure aboard the unluckiest ship of all.
The Titanic was supposed to be unsinkable - the largest passenger steamship in the world, one of the biggest and most luxurious ships ever to operate.
For Paddy, Sophie, Juliana, and Alfie, the Titanic is full of mysteries - whether they're to be found in the opulent first-class cabins and promenade decks or the shadows in the underbelly of the ship. Secrets and plans are about to be revealed - only now disaster looms, and time is running out. The four of them need to find the truth, unmask the killer... and try not to go down with the ship.
Raves & reviews:
Praise for Gordon Korman's Titanic series:
"Though best known and loved for his humorous books, Korman has proven here, as he has with the other adventure series he's penned, that he is far from a one-trick pony." - Quill & Quire
"[Korman] knows how to spin a lively and engaging tale. Hanging it on an already fascinating, albeit tragic, slice of history means it wins on all levels: a thrilling account of a heart-stopping disaster, and a set of fictional characters seamlessly intertwined with real life." - The Montreal Gazette
"Korman manages to tell the story of the Titanic smoothly while also introducing other elements of the early twentieth century...Altogether an enjoyable read that makes this tragic story come alive with personal narratives." - Resource Links
"Highly Recommended" - Canadian Review of Materials