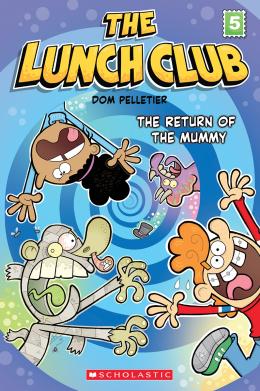 Read an excerpt
Available in French
Awards
Commended, Best Books for Kids and Teens, Canadian Children's Book Centre, 2023
The Return of the Mummy (The Lunch Club #5)
Scholastic Canada Ltd | ISBN 9781443195843 Paperback
136 Pages | 6.035" x 9.026" | Ages 7 to 10
The Lunch Club is back (in time) in their latest adventure!
It's history week at Pleasant Valley Elementary. Mr. Peabody has organized some very cool AND educational events. But Leo and Tia haven't seen him since he vanished into a weird portal, along with the villainous McSticky.
When Mr. Peabody suddenly reappears, he comes bearing bad news: McSticky, has a dangerous space-time ray and he's not afraid to use it . . . to change the course of history!
Will the Lunch Club gang be able to stop him in time?
Raves & reviews:
Praise for It Came from the Basement (The Lunch Club #1):
• Top Recommended Selection for the 2021 TD Summer Reading Program
"Kids will laugh themselves silly over The Lunch Club: It Came from the Basement." — CanLit for Little Canadians