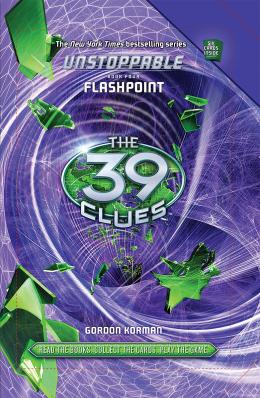 The 39 Clues: Unstoppable Book Four: Flashpoint
Scholastic Inc | ISBN 9780545521475 Hardcover
224 Pages | 5.24" x 7.66" | Ages 8 to 12
Scholastic Inc | ISBN 9780545540056 Ebook
224 Pages | Ages 8 to 12
The final adventure in this explosive 39 Clues story arc.
Tick tock. Fifteen-year-old Amy Cahill has only a few days to live. There's a poison coursing through her, and her only chance is to collect ingredients for an antidote. Too bad the antidote's ingredients are scattered around the world. And too bad that survival is by far Amy's smallest problem.
The antidote she needs is also the only thing capable of stopping a deadly enemy. J. Rutherford Pierce is on the brink of becoming the most powerful man in the world, and if he does, no one will be safe. Amy and her younger brother, Dan, will do everything it takes to bring Pierce down. Even if Amy must pay the ultimate price.
Raves & reviews:
The 39 Clues remains . . .
A New York Times Bestselling Children's Book Series
A USA Today Bestseller
A Wall Street Journal Bestseller
A Publishers Weekly Bestseller
An Indie Bound Bestseller