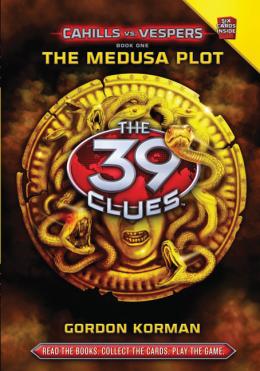 The 39 Clues: Cahills vs. Vespers Book One: The Medusa Plot
Scholastic Inc | ISBN 9780545298391 Hardcover
224 Pages | 5.25" x 7.5" | Ages 8 to 12
An explosive new series from the bestselling 39 Clues franchise - the adventure is just beginning!
The Clue hunt is over, but Amy and Dan's adventures have just begun. Cahills across the globe have been kidnapped by a new enemy, the Vespers, and it's up to Amy and Dan to perform a dangerous ransom-a race that will take them from the hidden tunnels of the Roman Coliseum to the ancient city of Timbuktu. If Amy and Dan can't stop the Vespers...the whole world will pay.
With more than 9 million copies in print and 1.3 million online users, The 39 Clues is a global phenomenon. The adventure continues in The 39 Clues: Cahills vs. Vespers, with six books, two card packs, and a powerhouse lineup of authors.
The enemy is coming. Are you ready to save the world?
After the mysterious Vespers kidnap a number of Cahills, they order Amy and Dan to steal a priceless painting in exchange for the hostages. The siblings then rush to Italy where they arrange a heist that rivals the most famous art thefts in history. There's just one problem-the painting they steal is a fake. With the clock ticking, Amy and Dan have to track down the real painting before one of the Cahill hostages is lost forever.
Raves & reviews:
Praise for The 39 Clues: Cahills vs. Vespers Book One: The Medusa Plot
"An excellent start to an epic, new hunt." - Quill & Quire
"[A] lean, easy-to-like thrill ride with guaranteed crowd-pleasing elements like secret societies, art heists, and heroes with unlimited cash and connections to fuel their around-the-world intrigue." - Booklist