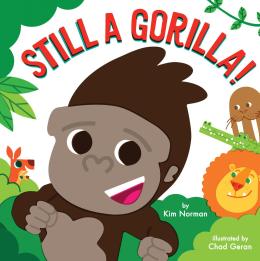 Read an excerpt
Awards
Commended, Best Books for Kids and Teens, Canadian Children's Book Centre, 2017
Still a Gorilla!
Scholastic Inc | ISBN 9780545757911 Hardcover
32 Pages | 10.36" x 10.3" | Ages 3 to 5
Scholastic Inc | ISBN 9780545757928 Ebook
32 Pages | Ages 3 to 5
A silly gorilla tries to be other zoo animals, but learns he is happier just being himself.
Will Willy be another type of animal? No! Still a gorilla!
In this fun, zany picture book, Willy the Gorilla imitates other animals at the zoo, including a lion, a walrus, a billy goat, an alligator, and a kangaroo. But pretending to be something he is not never works out. What if he just tried to be himself?
In the end, Willy is still a gorilla — and that's something everyone can appreciate! Still a Gorilla! is a funny, wacky, rhyming picture book that teaches the importance of being yourself.
Raves & reviews:
Praise for I Know a Wee Piggy by Kim Norman and illustrated by Henry Cole:
* "This is a blue ribbon-worthy read-aloud opportunity for celebrating rhyme, repetition, rural traditions, laughter — and, of course, colour. The star's earnestness is irresistible, and both text and pictures are rich and energetic." —Booklist, starred review
Praise for Ten on the Sled by Kim Norman and illustrated by Liza Woodruff:
"Toddlers will respond to the rhythmic, double-rhyming text as well as the desire to be more or different than they are." —Kirkus Reviews, starred review