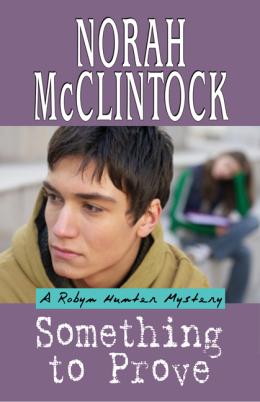 Something to Prove: A Robyn Hunter Mystery
Scholastic Canada Ltd | ISBN 9780545985710 Paperback
224 Pages | 5.02" x 7.77" | Ages 12 to 14

It's a new school year and Robyn finds herself swept up in tragedy and mystery when a new boy, James, transfers to her school, and she is asked to tutor him. Robyn is shocked when she finds out that James' brother was murdered several years earlier, and that the accused killer, Eddy Leonard, was acquitted of all charges due to some savvy moves on his defense lawyer's part. To Robyn's horror the defense attorney in question happens to be her mother, Patricia Stone. And now she dreads the day James finds out who she really is. Meanwhile, Robyn is feeling insecure about her relationship with Nick. He seems to be more interested in spending time with his childhood friend, April than he does with Robyn. And for his part, Nick wonders why Robyn is spending so much time with James. Robyn is relieved when James announces that he and his father will be leaving the country at Christmas--his father has found a job abroad. But when she agrees to spend a weekend with James, she stumbles on a plot to avenge his brother's death that puts her own life in peril.