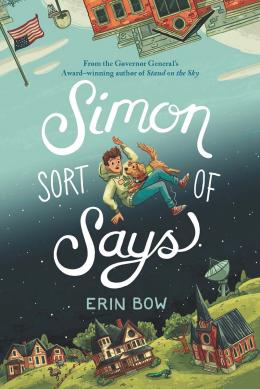 Read an excerpt
Awards
Long-listed, National Book Award for Young People's Literature, 2023
Simon Sort of Says
Scholastic Canada Ltd | ISBN 9781443193139 Hardcover
320 Pages | 5.840" x 8.562" | Ages 9 to 12
Scholastic Canada Ltd | ISBN 9781443193146 Ebook
320 Pages | Ages 9 to 12
Simon O'Keeffe tells a lot of stories: like how his family was driven out of Omaha by alpacas. And how his church-deacon dad accidentally gave a squirrel a holy sacrament. And how his undertaker mom occasionally has to wrangle emus.
But the story Simon doesn't tell is the one he'd do anything to forget: Simon is the only survivor of a school shooting. That story has followed him everywhere — everywhere except his new home in the National Quiet Zone, where the internet is banned so radio astronomers can listen for signs of life in space.
Then Simon meets a kid who wants to give the astronomers what they've been looking for . . . and he finally gets the chance to tell a new story about himself.
This is that story.
Hilarious, heart-wrenching and ultimately hopeful, this story is about finding your friends, healing your heart and speaking your truth.
Raves & reviews:
*"Original and sometimes disturbing, Plain Kate is a compelling story of dark magic and a remarkable debut by a talented writer." (Plain Kate) — Quill & Quire, starred review
". . . a story of strength, courage, and resilience that will resonate with anyone who has ever felt abandoned, alone, or doubted themselves and their place in the world. Bow delivers a jubilant tale that celebrates the power of family, love, and young women." (Stand on the Sky) — Quill & Quire
"An uproarious small-town comedy with a devastating tragedy at its core, played out by a cast as memorable for its animals as its people. Adroit, sensitive, horrifying, yet hilarious." — Kirkus Reviews