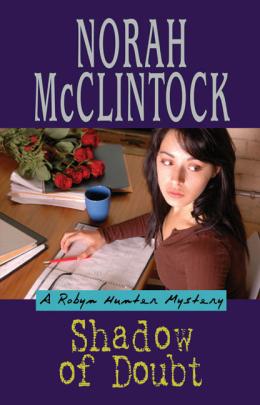 Awards
Commended, Best Books for Kids and Teens, Canadian Children's Book Centre, 2009
Commended, Resource Links, Best of the Year, 2008
Shadow of Doubt: A Robyn Hunter Mystery
Scholastic Canada Ltd | ISBN 9780545997294 Paperback
224 Pages | 5.01" x 7.76" | Ages 13 to 17

Robyn's soon-to-be stepfather, Ted, confesses to Robyn and her mother that he has a daughter whom he has not seen in nearly twenty years…and that missing daughter turns out to be Robyn's substitute English teacher, Ms. Denholm. When a threatening "gift" is delivered to her class, it looks like someone has a grudge against Ms. Denholm — a vicious grudge. Ms Denholm claims that she's being stalked by her ex-boyfriend, but Robyn doesn't quite trust that opinion, especially when she and her new teacher find their lives in danger from the person who has been trying to get Ms. Denholm out of the way for good. Amid the drama, though, there's some good news — Nick might be coming back into Robyn's life.