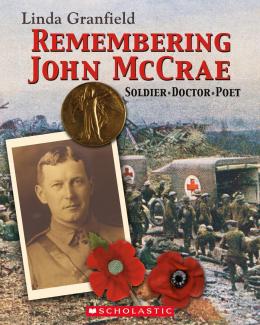 Read an excerpt
Awards
Winner, IODE Toronto Jean Throop Award, 2010
Short-listed, Hackmatack Children's Choice Award (Atlantic Canada), 2011
Short-listed, OLA SIlver Birch Award, Non-Fiction, 2011
Remembering John McCrae: Soldier - Doctor - Poet
Scholastic Canada Ltd | ISBN 9780439935609 Paperback
40 Pages | 8.01" x 10" | Ages 8 to 12
This award-winning tribute to the author of "In Flanders Fields" is now available in paperback.
"In Flanders Fields the poppies blow/Between the crosses, row on row..."
Every Canadian student, teacher, and parent can recite these powerful words. But behind every poem is a poet who lived, breathed, and in this case, led an extraordinary life. Despite John McCrae reaching Canadian icon status, his life story has been largely unknown.
In Remembering John McCrae, Linda Granfield, one of Canada's finest historians and celebrated authors of non-fiction for young readers, has compiled a beautiful tribute. In an accessible "scrapbook" style, more than one hundred photos, paintings, and documents are displayed to help create an intimate portrait of a true hero. Readers will learn about his life as a doctor and teacher of medicine, about his tour of duty in the Boer War, and of course, about his service in WWI, where he experienced a loss so profound it moved him to write "In Flanders Fields."