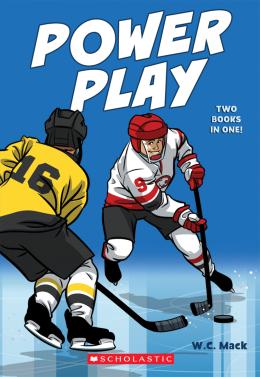 Read an excerpt
Awards
Commended, Best Books for Kids and Teens, Canadian Children's Book Centre, 2020
Power Play
Scholastic Canada Ltd | ISBN 9781443175180 Paperback
344 Pages | 5.251" x 7.618" | Ages 8 to 12
Two action-packed hockey stories!
HAT TRICK: J.T. "Nugget" McDonald might be the smallest guy on the Cougars, but he's not going to let that stop him. He's fast on the ice and his slapshot is on target. But some other things might prevent him from scoring a win. Like his Math marks. And a new player from a rival team. Unless Nugget can figure out how to deal with both, his plans to rule the rink — including a chance to take a shot on goal during Canucks game! — will be put on ice.
LINE CHANGE: Things are finally jelling for J.T. at the rink and in Math class. It's going to be the best season yet, especially when he finds out his dad is going to be the coach! But his teammates reject Dad's coaching methods. Practice isn't fun anymore, and they're fighting among themselves. Can J.T. figure out a play to pull the Cougars back together before the season falls apart?