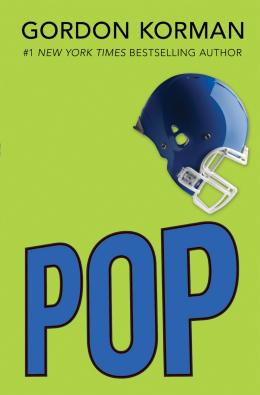 Read an excerpt
Awards
Short-listed, OLA Red Maple Award, Fiction, 2011
Pop
Scholastic Canada Ltd | ISBN 9781443142816 Paperback
272 Pages | 5.01" x 7.77" | Ages 12 & Up
Scholastic Canada Ltd | ISBN 9781443124607 Ebook
272 Pages | Ages 12 & Up
Gordon Korman's acclaimed and timely YA novel explores the dangerous side of high school contact sports.
When Marcus moves to town in the dead of summer, he doesn't know a soul and spends his time practicing for the upcoming football tryouts. He strikes up an unlikely friendship with Charlie, a charismatic prankster — and the best football player Marcus has ever seen. Marcus can't believe it when he finds out that Charlie is actually Charlie Popovich, a.k.a. "the King of Pop," as he was known during his NFL career. But soon it becomes painfully obvious to Marcus that all those hits during Charlie's glory days have taken their toll on the retired linebacker.
Once school starts, Marcus meets the team's starting quarterback, Troy Popovich. Right from the beginning, Marcus and Troy disagree — about football, about Tory's girlfriend, Alyssa, and most of all, about what's good for Charlie. Marcus bets that he knows what's best for the King of Pop. And he's willing to risk everything to help his friend.
With wit and sensitivity, Gordon Korman tackles truths about high school sports, while delivering a poignant story about an unlikely friendship.
Raves & reviews:
Praise for Pop:
"A frank examination of the potential consequences of contact sports... [Pop] will definitely please any young reader who likes a good, scrappy sports story where jockstrap gags energetically collide with thoughtful revelations." — The Globe and Mail
"A brisk, heartfelt and timely novel about the risks of pursuing a sport that can devastate one's brain." — The New York Times
"The football scenes are riveting, but the poignant human drama more than holds its own." — Kirkus, starred review