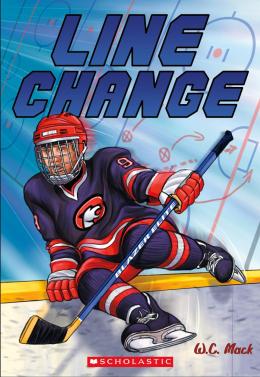 Read an excerpt
Awards
Commended, Best Books for Kids and Teens, Canadian Children's Book Centre, 2012
Line Change
Scholastic Canada Ltd | ISBN 9781443107846 Paperback
144 Pages | 5.22" x 7.63" | Ages 9 to 12
JT McDonald is back and dealing with a difficult hockey coach his dad!
JT McDonald is finally back on the ice with his team, doing better at math thanks to tutoring from his teammate Eddie and sporting the awesome new helmet he bought with his prize money from the Vancouver Canucks contest. Everything seems to be getting back on track for JT. That is, until Coach O'Neil has a bad fall on the ice and the team is left without a coach mid-season.
JT is thrilled when his dad steps in to lead the team but his teammates have a harder time adjusting to the new coach. Suddenly practice time isn't fun anymore, they're fighting among themselves, and they're devastated when they lose a game that should have been an easy win. Can the Cutter Bay Cougars get back on track before the season ends?