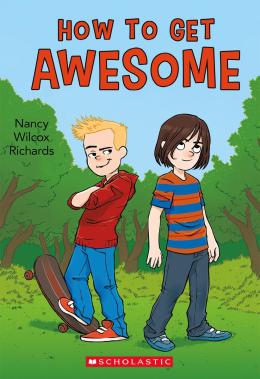 Read an excerpt
Available in French
Awards
Commended, Best Books for Kids and Teens, Canadian Children's Book Centre, 2016
How to Get Awesome
Scholastic Canada Ltd | ISBN 9781443148214 Paperback
96 Pages | 5.28" x 7.61" | Ages 7 to 9
Owen has big plans for grade three, but it quickly looks like the year is shaping up to be anything but awesome . . .
On the first day of grade three, Owen's teacher assigns a year-long writing activity called Project Awesome. Every week, the students need to write about something awesome in their everyday life.
It doesn't sound awesome to Owen. He hates writing and would rather be skateboarding or playing soccer with his best friend Max, or spending time with Copper, the elderly neighbour's dog.
But things don't always go according to plan. When Max stops hanging around and Copper goes away for vacation, Owen turns to his journal entries, as an outlet for some of his thoughts about the world around him.
Is it possible that Project Awesome isn't as lame as he thought?
Extras: