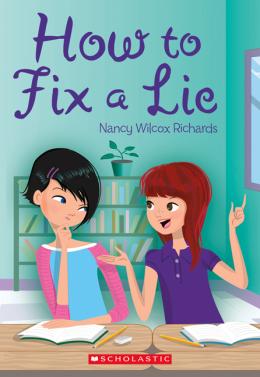 Read an excerpt
Awards
Short-listed, Hackmatack Children's Choice Award (Atlantic Canada), 2013
How to Fix a Lie
Scholastic Canada Ltd | ISBN 9781443113526 Paperback
96 Pages | 5.26" x 7.63" | Ages 7 to 9
Two classmates learn an important lesson about trust and honesty.
Everyone is getting excited about Pioneer Day in Abby's Grade Three class, except for Abby. She has been partnered up with Gracie, an unpopular girl who is known as a bit of a liar.
Abby tries her best to extend her friendship, but Gracie continues to tell one tall tale after another, leaving Abby unable to tell when Gracie is actually telling the truth. When it's finally Pioneer Day, no one believes Gracie when she says she's bringing in a real pioneer.
But Abby and the rest of her class are in for a big surprise ... teaching all of them an important lesson about judging people unfairly. Meanwhile, Gracie begins to realize that she doesn't need to make things up to be an interesting and worthy friend.
A wonderful novel for emerging readers from Nova Scotia-based author Nancy Wilcox Richards, author of How to Tame a Bully and How to Be a Friend.
Raves & reviews:
Praise for How to Fix a Lie
"How To Fix A Lie is a great story of friendship and the struggles that often come with peer groups and social settings. The characters are believable, and any young reader would be able to identify the "Gracies" or "Abbeys" in their own lives." —Resource Links
Extras: