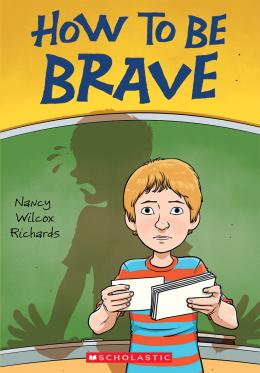 Read an excerpt
Available in French
Awards
Commended, Best Books for Kids and Teens, Canadian Children's Book Centre, 2018
How To Be Brave
Scholastic Canada Ltd | ISBN 9781443158008 Paperback
96 Pages | 5.25" x 7.62" | Ages 7 to 9
How do you gather courage in the face of new situations?
When Daniel blew out the candles on his eighth birthday he had made a wish: to be brave like Fiona.
Fiona and Daniel are twins but they aren't anything alike. Fiona is fearless. She loves to watch spooky movies, she never sleeps with a nightlight and she cannonballs right into the deep end of the pool. Daniel needs a little more time to feel comfortable in new situations.
As the twins get ready to start all over at a new school in April, Daniel needs all the courage he can get!
Will Daniel see last year's wish come true – especially when he has to give a presentation to the whole class?
As always, Nancy Wilcox Richards draws on her many years teaching elementary school and effortlessly ties in curriculum links, along with the character traits explored here.