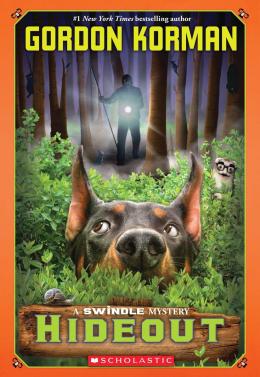 Read an excerpt
Awards
Commended, Best Books for Kids and Teens, Canadian Children's Book Centre, 2013
Hideout: A Swindle Mystery
Scholastic Inc | ISBN 9780545448673 Paperback
288 Pages | 5.28" x 7.58" | Ages 8 to 12
Scholastic Inc | ISBN 9780545448666 Hardcover
256 Pages | 5.76" x 8.54" | Ages 8 to 12
The Man With The Plan and his friends return in this fifth romp in the Swindle series!
Not so long ago, Griffin Bing and his band of friends put a man nicknamed Swindle behind bars. But now he's out of jail, and not only does he want revenge — he wants his dog back.
Griffin and the gang aren't going to let Luthor go that easily. In order to save the dog, they are going to have to hide the dog wherever they can. Like a camp in the woods. Or a drama program. Or by a lake with a very mysterious monster. Swindle's on their tail... so they're going to wag it as fast as they can.
Raves & reviews:
Praise for the Swindle series:
"Goofball-funny and addictive." —Kirkus Reviews
"Pure fun from top to bottom." —School Library Journal
"Korman's fast moving, feel-good suspense novel will have middle schoolers, especially boys, turning the pages." —Voice of Youth Advocates