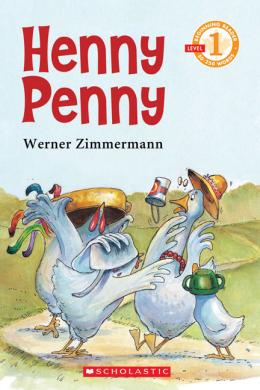 Read an excerpt
Henny Penny: A Scholastic Canada Reader
Scholastic Canada Ltd | ISBN 9781443124331 Paperback
32 Pages | 6.01" x 9.03" | Ages 5 to 8
This Scholastic classic is now available in a levelled reader format!
This classic folktale follows the journey of the scatterbrained Henny Penny and her friends Ducky Lucky, Goosey Loosey, and Turkey Lurkey, as they race to inform the king that the sky is falling.
Werner Zimmermann brings his hilariously irreverent sense of humour to the timeless tale, as clever illustrations and repetitive text make it perfect for developing readers.
Raves & reviews:
Praise for Henny Penny:
"Putting familiar tales into easy-to-read formats can be a little gimmicky. However, the story of Henny-Penny, with its repetitive words and sentences ("I'm going to tell the King the sky is falling"), works better than most. The artwork, featuring good-size characters, will appeal to new readers. An on-target offering." -Booklist
"[Henny Penny] is illustrated with subtle humour and interesting perspective by Werner Zimmerman. The first page made me laugh just as much as the first time I saw the book a few years ago... Read, enjoy the richly-toned illustrations, above all seek out and enjoy the comic details that denote character and the subtle patterning in many of the illustrations." -The Deakin Newsletter