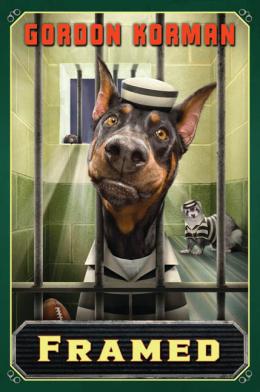 Framed: A Swindle Mystery
Scholastic Inc | ISBN 9780545178495 Hardcover
240 Pages | 5.75" x 8" | Ages 9 to 12
Griffin Bing has been framed!
Griffin Bing's school has a new principal - and he doesn't like Griffin. For his part, Griffin doesn't like the bootcamp football atmosphere. But both are surprised when a Super Bowl ring disappears from the school's display case, with Griffin's retainer left in its place. Griffin has been framed!
Unfortunately, The Man With The Plan doesn't have a plan - and everything his team does to find out who really took the ring backfires. Griffin ends up in an alternative school, then under house arrest, and finally with an electronic anklet - with no way to prove his innocence! Griffin smells a rat - but will he be able to solve the mystery in time?
Raves & reviews:
Praise for the Swindle series:
"Goofball-funny and addictive." -Kirkus Reviews
"Pure fun from top to bottom." -School Library Journal
"Korman's fast moving, feel-good suspense novel will have middle schoolers, especially boys, turning the pages." -Voice of Youth Advocates