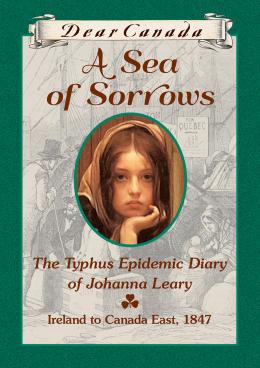 Dear Canada: A Sea of Sorrows: The Typhus Epidemic Diary of Johanna Leary, Ireland to Canada East, 1847
Scholastic Canada Ltd | ISBN 9781443107105 Hardcover
176 Pages | 5.54" x 7.66" | Ages 9 to 14
Scholastic Canada Ltd | ISBN 9781443119733 Ebook
176 Pages | Ages 9 to 14
In the midst of the Irish famine, Johanna flees one disaster — only to land in another.
After a massive potato famine strikes Ireland, thirteen-year-old Johanna Leary flees to Canada with her family.
But typhus and other illnesses plague the "coffin ships," so named for the staggering number of immigrants who died enroute. One by one Johanna loses the members of her family — first her baby brother on the journey over, then her mother in the Grosse Isle fever sheds where sick passengers are quarantined when they reach the port of Québec, and her father soon after. Johanna has only her brother Michael left when she sets foot on Canadian soil.
When her brother is mistakenly told that she too has died, he sets off to find their uncle "somewhere in Canada," leaving Johanna to face a new life in a strange land... totally alone.
A Sea of Sorrows captures a dreadful time in history for those desperate, impoverished Irish families who hoped to make Canada their home. Johanna's incredible journey of survival is told with insight and sensitivity by master storyteller Norah McClintock.
Raves & reviews:
Praise for Dear Canada:
"Bring[s] Canada's past alive for girls...The diaries are by well-established authors writing powerful stories with strong personal resonance." —Maclean's
"In the hands of great writers, Canadian history is riveting and lively...This is the way history should be told." —Vancouver International Writers Festival
"These stories will pull you in emotionally and provide you with some authentic and riveting details that transport you into that time period... and hopefully propel readers to read and learn more about these Canadian experiences." —Resource Links