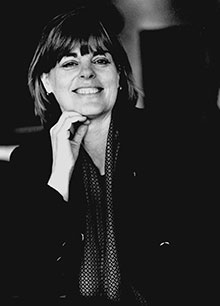 Norah McClintock
Norah grew up in a home full of books in Pointe-Claire, Quebec, a suburb of Montreal, and decided to become a writer when she was in Grade 7. Her first book, Shakespeare and Legs, was published by Scholastic Canada in 1987 and she continued to write prolifically, mostly at night until she became a full-time writer in 2000.

Though that first book was a teen romance, Norah found fame and world-wide success writing crime fiction. She is a five-time winner of the Arthur Ellis Award and The Vancouver Sun called Norah "John Grisham for teens." Some of her most popular series are Chloe and Levesque, Mike and Riel and Robyn Hunter, each featuring a teenage sleuth.

In recent years she turned her talents to a variety of different genres, writing graphic novels and a Dear Canada book, and participating in the group-authored series Seven. In her long career, Norah penned more than sixty young adult novels loved by fans the world over. Norah passed away in 2017.