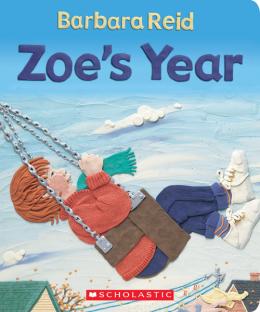 Read an excerpt
Available in French
Awards
Commended, Best Books for Kids and Teens, Canadian Children's Book Centre, 2012
Zoe's Year
Scholastic Canada Ltd | ISBN 9781443113724 Board book
48 Pages | 5.69" x 6.8" | Ages 0 to 3
Join Zoe and her parents in a celebration of the seasons and all that they have to offer!
In this charming board book bindup, Barbara Reid's four book cycle starring the curious and mischievous Zoe — Zoe's Rainy Day, Zoe's Sunny Day, Zoe's Windy Day and Zoe's Snow Day — are combined to take a toddler through all four seasons of the year!
Zoe loves exploring her neighbourhood, whether it's a windy day, a sunny day, a rainy day or a snowy day. Every season brings a new adventure! Spring is the perfect time to splash in puddles. A picnic in the park is a great way to spend a summer afternoon. Chasing colourful leaves and swinging into the wind are so much fun on an autumn day. And winter has its own treats in store: catching snowflakes on your tongue, taking a sled ride and watching the skaters on the ice.
Best of all, no matter what the day brings, Zoe can always count on kitty and her stuffed monkey to welcome her home.
Brief, bouncy text accompanies Barbara Reid's bright Plasticine illustrations, which show all the familiar sights around the neighbourhood in wonderful, three-dimensional detail.
This series was the recipient of the Mr Christie's Book Award, making this bind-up a must-have for every baby's bookshelf!
Raves & reviews:
Praise for Zoe's Year
"Reid's attention to detail ensures that even for adult viewers, there's always something new to notice. A Canadian classic." —The Toronto Star
"A visual and tactile feast, Zoe's Year has simple text and detailed illustrations. That means there's a lot to explore and learn about the delights that each season holds." —The Halifax Chronicle Herald
"Even though some two decades have passed since Zoe first was introduced to toddlers, she and her seasonal activities are still engaging—Zoe's Year is a must-have for home collections as well as any libraries serving the toddler set." —CM Magazine
"My son loved the illustrations. He kept trying to grab them. I think they looked more real than a normal drawing. They really caught his attention." —Canadian Family