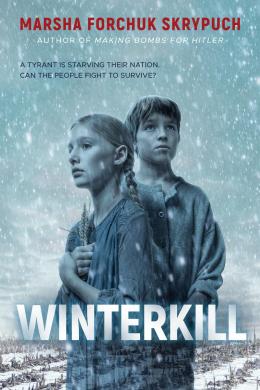 Read an excerpt
Watch a video
Awards
Short-listed, Manitoba Young Readers' Choice Award, 2024
Commended, Best Books for Kids and Teens, Canadian Children's Book Centre, 2023
Winterkill
Scholastic Inc. | ISBN 9781338831429 Hardcover
288 Pages | 5.5" x 8.25" | Ages 8 to 12
Scholastic Inc. | ISBN 9781338831412 Paperback
288 Pages | 5.285" x 7.543" | Ages 8 to 12
Scholastic Inc. | ISBN 9781338831443 Ebook
288 Pages | Ages 8 to 12
FOOD IS RUNNING OUT . . . AND THE ENEMY IS CLOSING IN.
Nyl is just trying to stay alive. Ever since the Soviet dictator, Stalin, started to take control of the farms in Ukraine like the one Nyl's family lives on, there is less and less food to go around. On top of bad harvests and a harsh winter, conditions worsen until it's clear the lack of food is not just chance . . . but a murderous plan leading all the way to Stalin.
Alice has recently arrived from Canada with her father, who is here to work for the Soviets . . . until they realize that the people suffering the most are all ethnically Ukrainian like Nyl. Something is very wrong, and Alice is determined to help.
Desperate, Nyl and Alice come up with an audacious plan that could save both of them — and their community. But can they survive long enough to succeed?
Marsha Forchuk Skrypuch brings to vivid life the Holodomor, or death by starvation, Ukraine's famine-genocide of the 1930s. Tragically timely and resonant, this is a story about unity, perseverance, and the irrepressible hunger to survive.
Raves & reviews:
Praise for Traitors Among Us:
* "Told in alternating chapters narrated in the first person by Ukrainian sisters Krystia, 16, and Maria, 14, this gripping novel tells a lesser-known story of the war's horror . . . this is ultimately a story of the strength of the human spirit. Krystia and Maria are survivors, and they never give up, drawing strength from remembering their parents' belief in them as they struggle to stay alive. Gripping, harsh, and superbly written." ⁠— Kirkus Reviews, starred review
Praise for Don't Tell the Nazis:
"The first-person account, based on the real-life Krystia's memories as told to Skrypuch, reads like a memoir; despite the historically accurate body count, it retains a sense of hope. An accessible entry in a crowded, vital field, honoring those who risked everything to save others." ⁠— Kirkus Reviews
Praise for Stolen Girl:
"The author once again deftly sheds light on lesser-known aspects of the Ukrainian experience during WWII . . . A gripping exploration of war-induced trauma, identity, and transformation." ⁠— Kirkus Reviews
"A fascinating, compelling read." ⁠— Booklist
"In addition to helping children understand conditions that immigrants face in current times, this stands as a deeply personal, relatable study of the long-term psychological effects of war on children, making it a useful addition to a Holocaust or World War II curriculum." ⁠— Bulletin of the Center for Children's Books
"Excellent back matter . . . gives context to Nadia's story . . . This is a strong addition to World War II historical fiction collections, shining a light on a little-known aspect of the Nazi regime's insidious programs." ⁠— School Library Journal
Praise for The War Below:
"Skrypuch offers a compelling, visceral novel of survival that provides an unusual view of the war . . . The suspenseful story carries the reader along to its satisfying conclusion." ⁠— Booklist
"Skrypuch continues to shed light on the double jeopardy that many Ukrainians experienced . . . A page-turning window into a complex piece of World War II history." ⁠— Kirkus Reviews
"This story, full of numerous acts of compassion and valor, sheds welcome light on a less familiar battleground of World War II." ⁠— Publishers Weekly
"A riveting read." ⁠— YA Books Central
Praise for Making Bombs for Hitler:
"A gripping story that asks: What would you do to survive?" ⁠— Alan Gratz, New York Times bestselling author of Refugee
"Inspired by real, historical accounts, this is a powerful, harrowing story of transformation." ⁠— Booklist
"Skrypuch draws on real-life stories of survivors in telling Lida's poignant tale, and she creates a cast of young people who are devoted to one another in both thought and deed. . . . A well-told story of persistence, lost innocence, survival, and hope." ⁠— Kirkus Reviews
"The story [has a] strong undercurrent of friendship and loyalty; an author's note gives further background on this important piece of history." ⁠— Publishers Weekly
"Students will admire Lida's pluck amid such heinous conditions. . . . An absorbing read about the lesser-known Ukrainian experience during World War II, this is a solid choice for curricular ties and for middle school historical fiction collections." ⁠— School Library Journal
"Skrypuch has written a gripping, emotional novel of one Ukrainian girl's perseverance during the horrors of war. . . . This is a vivid picture of what youth experienced during World War II and the hopelessness of displaced populations of all backgrounds and religions." ⁠— Voice of Youth Advocates
Extras: