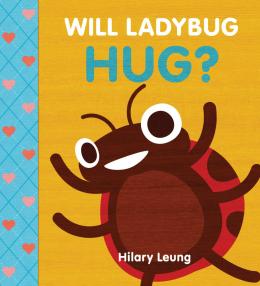 Read an excerpt
Watch a video
Awards
Commended, Chicago Public Library Best Books of the Year, 2018
Will Ladybug Hug?
Scholastic Inc | ISBN 9781338215601 Board book
40 Pages | 6.58" x 7.39" | Ages 0 to 3
Scholastic Inc | ISBN 9781338291438 Ebook
40 Pages | Ages 0 to 3
One ladybug. Many friends. One timeless question: Will Ladybug Hug?
Meet Ladybug. Ladybug loves to hug! Now Ladybug is getting ready to go on a trip and wants to say good-bye to her friends. . . but will her friends want to receive a hug? Find out in this surprising and memorable storybook all about friendship, high-fives, consent, and of course, hugs. A fresh and funny new book in creative talent Hilary Leung's series of animal question stories all about preschool milestone moments. Let Ladybug and her friends laugh, high-five, and hug their way to your heart!
Raves & reviews:
Praise for Will Bear Share?:

* "A clear and winning guide to a key social grace; share and repeat as necessary." -- Kirkus Reviews Starred Review

Praise for Will Sheep Sleep?:

"Leung handsomely colors the pages in woodgrainlike textures and in striking shades, including jade green and dusky rose. Readers will be pleased that when Sheep finally sleeps (after counting his friends dressed in wool), there's room for a bit more fun." -- Publishers Weekly

"Both books feature a cast of endearing animal characters, rendered via basic shapes and bright colors, sure to attract the toddlers at which they're aimed. There's Sheep; Bear; Frog; Ladybug; Giraffe; and Crocodile. Much dry humor is conveyed through their facial expressions, in particular, their eyes, and the simplest of gestures. The books cover uncomplicated concepts (sharing and sleep) with short sentences in a bold font. As with any good character-driven board book, Leung develops memorable characters in a very tight space. One thing is for sure: Leung's joy in crafting these books is almost tangible." Julie Danielson, Kirkus Reviews
Extras: