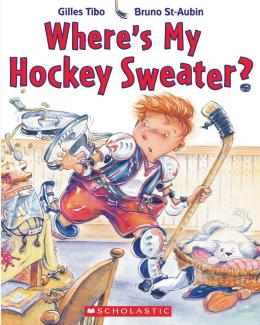 Read an excerpt
Available in French
Awards
Short-listed, OLA Blue Spruce Award, 2007
Commended, Canadian Children's Book Centre, Our Choice, 2006
Where's My Hockey Sweater?
Scholastic Canada Ltd | ISBN 9780439956772 Paperback
32 Pages | 8.04" x 9.94" | Ages 3 to 8
Will Nicholas be able to sift through his mess and find all of his hockey gear in time for practice?
Nicholas's room is a disaster area — he doesn't know where anything is. And he still has to get all of his hockey gear together, put it on, eat breakfast and fly out the door in time to make the first practice of the year!
Bruno St-Aubin's colourful, amusing and action-filled illustrations perfectly complement the humorous text and will delight readers of all ages. Any parent who has had to hustle a child out the door for hockey will relate to the hunt for each piece of equipment!