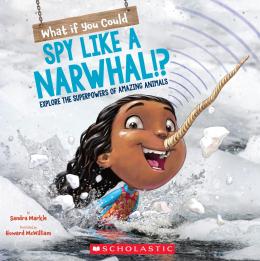 What If You Could Spy like a Narwhal!?: Explore the superpowers of amazing animals
Scholastic Inc. | ISBN 9781338356090 Paperback
40 Pages | 9.997" x 10.021" | Ages 4 to 8
If you could have any animal's superpower, whose would you choose?
What if you woke up one morning, and you suddenly had the superpower of an unusual animal? If you could fly like a colugo, taking out the trash would be a breeze. If you could shock like an electric eel, you'd never worry about the power going out during a storm! And if you could spy like a narwhal, you'd never lose a game of hide-and-seek.
With zany illustrations and amazing true facts, What If You Could Spy like a Narwhal!? continues a new series from bestselling creators Sandra Markle and Howard McWilliam. The What If You Could...? books have all the appeal of the What If You Had...? titles, but focus on animal superpowers and feature a fresh design.
Raves & reviews:
Praise for What If You Had Animal Teeth!?:
"Though perhaps not the best choice for the nightmare-prone, this will surely satisfy animal enthusiasts and trivia lovers, and dentists and parents will appreciate the mention of ways to keep human chompers healthy." — Booklist
"It's a hilarious and instructive combination that makes it clear just how variable and individually suited this aspect of anatomy is, and the art takes the concept and runs — well, chomps — with it." — Bulletin of the Center for Children's Books
"Delightful illustrations and factual presentations of animals make this a valuable purchase for early elementary classrooms and libraries." — Library Media Connection
"The lively text, photographs, and quirky illustrations charmingly tell a great tooth story." — International Reading Association