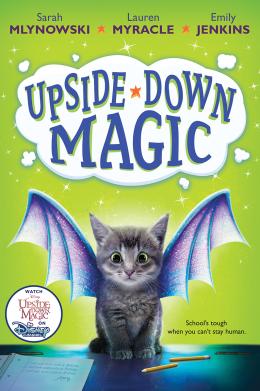 Read an excerpt
Upside Down Magic
Scholastic Inc | ISBN 9780545800457 Hardcover
208 Pages | 8.81" x 8.53" | Ages 8 to 12
Scholastic Inc | ISBN 9780545800471 Ebook
208 Pages | Ages 8 to 12
From a trio of New York Times bestselling authors comes the hilarious and heartfelt story of a group of magical misfits.
Nory Horace is nine years old. She's resourceful, she's brave, she likes peanut butter cookies. Also, she's able to transform into many different animals. Unfortunately, Nory'shape-shifting talent is a bit wonky. And when she flunks out of her own father's magic academy, Nory's forced to enter public school, where she meets a group of kids whose magic is, well, different.
From Canadian author Sarah Mlynowski, and authors Lauren Myracle, and Emily Jenkins, this offbeat new series chronicles the misadventures of Nory and her oddball friends, who prove that upside-down magic definitely beats right side up.