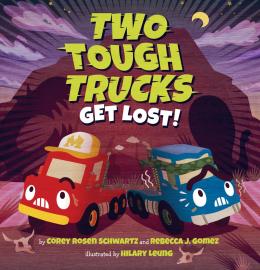 Read an excerpt
Awards
Commended, Best Books for Kids and Teens, Canadian Children's Book Centre, 2021
Two Tough Trucks Get Lost!
Scholastic Inc. | ISBN 9781338236552 Hardcover
40 Pages | Ages 3 to 5
Scholastic Inc. | ISBN 9781338676143 Ebook
40 Pages | Ages 3 to 5
Join these two tough trucks on their second picture book adventure!Two tough trucks -- the fastest of friends -- love racing and chasing and zipping 'round bends. But when they chase and zip without paying attention... Mack and Rig get separated! Will they find their way back to each other, and to their parents?In this sequel to Two Tough Trucks, we join preschool vehicles on an action-packed playdate that goes a little off the rails. Kids will love imagining themselves as Mack and Rig zipping around Hilary Leung's beautiful American Southwestern landscapes, and parents will enjoy reading the easy, bouncing rhymes.Get ready to vroom and zoom your way to fun and friendship with these two lovable and tough trucks!
Raves & reviews:
Praise for Two Tough Trucks:"Looks like the first-day-of-school genre just got a high-octane upgrade." -- Kirkus Reviews