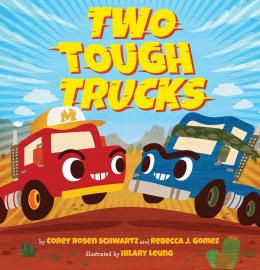 Read an excerpt
Awards
Commended, Best Books for Kids and Teens, Canadian Children's Book Centre, 2020
Two Tough Trucks
Scholastic Inc. | ISBN 9781338236545 Hardcover
40 Pages | 9.810" x 10.170" | Ages 3 to 5
Scholastic Inc. | ISBN 9781338498448 Ebook
40 Pages | Ages 3 to 5
Do you have what it takes to be a tough truck? Rev up those engines!
Two trucks off to school for their first day of class.
One riding the brakes. One hitting the gas.
Mack and Rig couldn't be more different. One loves the fast lane. The other, the off-ramp. But when they're forced to pair up on their first day of school, can Mack and Rig figure out a way to get along and learn what it really means to be a tough truck? Get ready to vroom and zoom your way to fun and friendship with these two lovable and tough trucks!
Raves & reviews:
Praise for Three Ninja Pigs by Corey Rosen Schwartz:
"This standout version has so much motion, action, and laughs, kids will feel like they're hearing it for the first time. Schwartz's clever rhyming text flows nicely." — Booklist
"A fractured fairy tale to outcharm the original The Three Ninja Pigs manages to one-up the well-worn story by setting it in Japan, sprinkling it with the language and discipline of martial arts. All in hilarious, impeccable rhyme." — The New York Times Book Review
"For young martial arts fans seeking a lighthearted book about their hobby, Schwartz's story should fit the bill... The idea of three gi-clad pigs fighting the big bad wolf is a winner." — Publishers Weekly
"A standout among fractured fairy tales, masterfully combining rollicking limerick verse with a solid story." — Kirkus Reviews
Praise for Will Ladybug Hug? by Hilary Leung:
"Clear, endearing, and important." — Kirkus Reviews starred review
Praise for Will Bear Share? by Hilary Leung:
"A clear and winning guide to a key social grace; share and repeat as necessary." — Kirkus Reviews starred review
Praise for Will Sheep Sleep? by Hilary Leung:
"Leung handsomely colors the pages in woodgrain-like textures and in striking shades, including jade green and dusky rose. Readers will be pleased that when Sheep finally sleeps (after counting his friends dressed in wool), there's room for a bit more fun." — Publishers Weekly