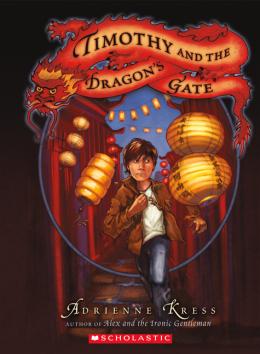 Awards
Short-listed, Red Cedar Award (BC Young Readers' Choice), 2012
Commended, OLA Best Bets, 2010
Timothy and the Dragon's Gate
Scholastic Canada Ltd | ISBN 9781443100847 Paperback
432 Pages | 4.99" x 7" | Ages 9 to 12

Eleven-year-old Timothy Freshwater has been expelled from every school in his city. With nowhere else to go, he joins his father at the Tall and Imposing Tower of Doom and lands himself an (unpaid) internship with Evans Bore, a hopelessly awkward CEO who hasn't been invited to single fancy party in his entire life. When his father is called away on business, his real education begins. Left in the care of an eccentric neighbour named Mr. Bazalgette, Timothy learns some curious facts about Mr. Bore and his unusually loyal mail clerk, Mr. Shen--facts that lead to unbelievable revelations: about dragons, servants, and the laws that bind them. With time running out, Timothy takes it upon himself to change one dragon's fate, and begins an adventure that will not end until he is relentlessly pursued by a pack of blood-thirsty black cabs, a crazed ninja and the most feared pirate in the South China Sea! This stand-alone read is the perfect introduction to Adrienne Kress' wild imagination. Those readers who loved her first book, Alex and the Ironic Gentleman, will rejoice in the reappearance of Alex, Captain Magnanimous and the peculiar Jack Scratch.
Raves & reviews:
"Quirky, hilarious, and genuinely exhilarating.... Alex is a wonderful hero who deserves to return for further adventures." --Eoin Colfer, bestselling author of the 'Artemis Fowl' series